The To Be Read Tag was created by Dana @ Danasquare and her co-blogger Rachel @ A Perfect Called Books The tag is a bunch of questions about your TBR and I was tagged by the lovely, @shybooknerd from A Wonderland of Reading ! Thanks so much for the tag and sorry it took me SO long to do it!!
The Questions:
How do you keep track of your TBR pile?
I often mark books on goodreads as "to read" and I have a Amazon wishlist to keep track of books I want (and to look out for kindle ebook price drops) and I also just moved all my TBR books I own onto their very own shelf so all of them are together :) Also made a TBR collection on my kindle! Also I just kind of keep track in my head, because I don't mark all the ones I want to read! There's A LOT. I kind of mostly just go with the flow of things!
Is your TBR mostly print or ebook?
E-book! I have around 70 TBR books on my kindle and about 50 in print!
How do you determine which book from your TBR to read next?
I'm a mood reader so it depends what strikes me! I made a TBR jar but never use it.. I just have to go with whatever I'm in the mood for :)
A book that's been on your TBR list the longest?
Looking at my first shelf, the answer would be Wuthering Heights by Emily Bronte. I've been meaning tor read the book forever and I even made it a goal to read this year! However, I tried to and just couldn't get into it! So maybe next year. Or the year after that.....
A book you recently added to your TBR?
On goodreads, Volition by Lily Paradis!
A book in your TBR strictly because of its beautiful cover?
Pretty covers certainly draw me in but I usually hear something about it too that makes me want to read it so I don't really have an answer for this one! But for the sake of something, one that comes to mind that I was drawn to the cover and I don't know much about is This Song Will Save Your Life by Leila Sales! Love this cover, the typography!
A book on your TBR that you plan on never reading?
Possibly Wuthering Heights LOL. Just kidding it will happen one day! I'm sure there are a lot on my tbr that I won't actually read but I can't think of any at the moment. I have been culling my shelves on both goodreads and my shelves at home so right now I want to read everyone on my TBR! But who knows if that will happen, my mind changes all the time! But since I want to have some answer... I may never read more Jane Austen :/ I liked Pride and Prejudice but if I didn't see the movie I'd have a hard time getting through the book! And I started Emma years ago and only made it 1/4 and don't think I could ever finish. I don't know maybe when I'm older! But that's my answer!
An Unpublished book on your TBR that you're excited for?
WINTER BY MARISSA MEYER. I need this book! But since that one is so far away and doesn't have a cover I'm also super excited for Confess by Colleen Hoover!!
A book on your TBR that basically everyone's read but you?
The Percy Jackson series! Although technically I'm reading the first one now but I haven't picked it up in awhile!
A book on your TBR that everyone recommends to you?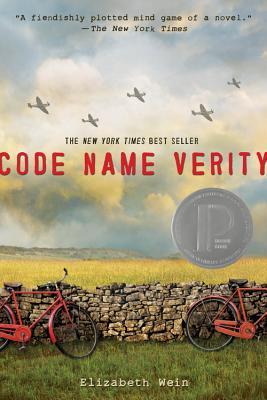 Why are these questions so hard for me right now? Ummmm.. everytime I bring up how I want to read Code Name Verity - people always tell me how good it is and that I need to read it!
A book on your TBR that you're dying to read?
Usually if I'm super excited to read a book, it will already be read. Unless I don't own it or it hasn't been released yet! None of the books I have I'm dying to read right now because I'm just super absorbed in my current read which is the Bronze Horseman. Man I really suck for this tag haha!
How many books are on your Goodreads TBR shelf?
186! And I took that down from 680! And I'm sure I can delete some more... those shelves get out of control!
************************
That's the tag!! I'm sorry my answers weren't super exciting! It's hard answering when you are a mood reader! I used to be overwhelmed by my TBR list but honestly I'm not anymore since culling my shelves and just not pressuring myself anymore!
Feel free to do the tag if you want to!!!