Top Ten Tuesday is a weekly meme that is hosted by The Broke and the Bookish
where mostly bookish topics are picked - and you show your top ten!

This week's topic is... 10 books you want to read this winter!! I always love making season TBR's but I usually fail at them so we will see how this goes! I only had 5 books on my fall TBR and they are all still unread!! Actually a couple I tried to read (got more than 100 pages in) and DNF'd :/ The other 3 I attempted so I mean that totally counts for something!! Brownie Points for Effort!! :D I always like to see how I do so here goes....
1. A Walk to Remember by Nicholas Sparks
- So Winter officially starts December 21 and I plan to reread my favorite in December around Christmastime so I'm putting this one on their because I know I'll at least read one!! I'm not sure when exactly I'll read this whether it will be before Winter officially starts or not, but nonetheless it's on the list! December marks the beginning of winter for me anyway....
2. Let it Snow by John Green, Lauren Myracle, and Maureen Johnson
- See explanation above! I will be reading this next month around Christmas :) (Hopefully, this isn't set in stone or anything...)
3. A Game of Thrones by George R.R. Martin
- Okay so I started reading this in August and still have 550 pages to go and I don't see myself finishing it for the year but I making it a goal to finish it by the end of winter!! I mean perfect book to read in the winter anyway with the whole "winter is coming" tagline and everything....
4. Code Name Verity by Elizabeth Wein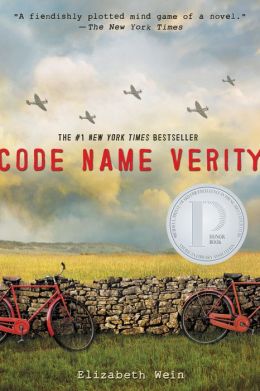 - I started this book I don't even know how many times and I just can't get past the beginning! But I heard it's a bit of struggle in the beginning and you just got to push past and then it will be amazing! So I just need to do it, and WWII historical fiction is a good fit to read in the winter! I can do it!!!
5. Gilded Ashes by Rosamund Hodge
- This is a novella that I included because it's good for the winter, a fantasy Cinderella retelling and it's short so I can maybe accomplish reading it!!
6. The Edge of Never by J.A. Redmerski
- I need some romance for Winter!!! And I heard this one is a good one and involves a road trip so I'm there! It also seems like a bit of a darker NA (rather than light and fluffy) so again good for winter!
7. Fairest by Marissa Meyer
- This is the prequel to the Lunar Chronicles about Queen Levana that releases on January 27 so I feel like this is a shoe in for me to read because the Lunar Chronicles is one of my fave series!! I'm still a little bitter that we have to wait a year for Winter when I was expecting it to come out in February like the other ones but what can you do... I'm still looking forward to this one! (Side note, I really don't like this cover and that's so sad because the covers of this series are GORGEOUS!)
8. Confess by Colleen Hoover
- I'M SO EXCITED FOR THIS ONE!! It release March 10 so it still makes it for winter!! Can I have this now please?!? Hyperventilating here people!!!
9. Never Never by Colleen Hoover and Tarynn Fisher
- I mean, COLLEEN HOOVER. Of course I'm reading this!! It sounds really cool too - it releases January 27!
10. I Was Here by Gayle Forman
- Another January 27th release! I've read both of her duologies this year, Just One Day and If I Stay and enjoy her writing so will continue reading her work! This one sounds good and a bit depressing, perfect for winter....
*******************************
Man, looking at this list - I'm reading a lot of heartbreaking and dark books for the winter, I'm going to be even more depressed than I should be. What am I doing to myself? Maybe I should read some light and fluffy books to brighten up my mood a little!! We'll see how good I stick to my TBR!!
Are you planning on reading any particular books this winter?!!? Any new Winter releases you are excited for?? Read any or excited for the ones I've mentioned?