Guys, I can't believe it's December already! This year seriously flew by! I'm still not ready for Christmas!! But my December TBR is going to be really ambicious!! I just want to read all of the books!!! Let's dive in to my TBR....
December TBR
1. The Lightning Thief by Percy Jackson
- I am currently reading this and enjoying so far, just haven't gotten the chance to read a lot of it! Hoping to get back into it soon!!
2. How to Love by Katie Cotugno
- I had to renew this one from the library since I didn't get to it last month, but hopefully I will this month! I've been wanting to read it!!
3. A Walk to Remember by Nicholas Sparks
- I will be rereading this to get me into the Christmas spirit and because it's my favorite of all time!
4. Let it Snow by John Green, Maureen Johnson, & Lauren Myracle
- A good Christmas book that I hope to get to :)
5. Miracle on 34th Street by Valentine Davies
- I've had this for years and hope to finally read it! It's so short too, so I don't know what the hold up is! I want to see the movie too!
6. Code Name Verity by Elizabeth Wein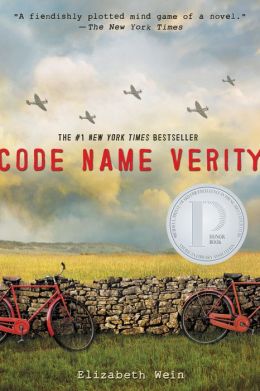 - We shall see about this one, I've been meaning to read it for forever and I just can't get through the beginning so it will depend on my mood!
7. Harry Potter and the Sorcerer's Stone by J.K. Rowling
- I reread this last December and I just have been in the Harry Potter mood so I may reread it again this year! Who knows!
8. My True Love Gave to Me by Various Authors
- I will be rereading some select stories from this!! Especially Midnights by Rainbow Rowell that I plan on reading the very last day of December :D
I think that's all that I'm putting on the TBR, who knows how well I'll stick to it!! I'm so excited to reread A Walk to Remember and that's what I'm most looking forward to! I also still have A Game of Thrones on my currently reading list but I don't see myself finishing it by the end of the year!
****************
Have you read any of these? What book are you most excited to read this December?