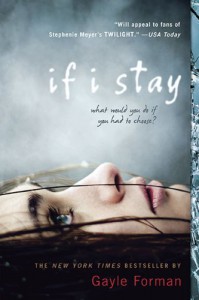 I just started this yesterday and I am loving it so far! Can't wait to continue on with it and see what happens. The movie looks like it's going to be amazing too! I have a busy weekend planned so that is the only book I am planning to read this friday and over the weekend!
I'll be reading a lot of Gayle Forman this month because I'm sure when I finish this one, I'll want the sequel - Where She Went which I heard is even better! And her Just One Day/Year companion novella, Just One Night comes out May 29 that I am super excited for!
What are you currently reading? Have you read If I Stay and/or Where She Went?
Have a great friday/weekend and happy reading :)
- Jess