+
TAYLOR SWIFT BOOK TAG
This is like the PERFECT tag!! I absolutely LOOOOOVE Taylor Swift!! So I had to do this. I saw this tag on youtube from Katytastic (and she adds on two more questions that I'll be answering too!! The original creator is theBookLife :) Totally listening to Taylor Swift while answering the questions... :)
QUESTIONS:

1. "We Are Never Ever Getting Back Together"
♪ Pick a book or series that you were pretty sure you were in love with, but then wanted to break up with ♪
One Day by David Nichols - I still love this book and story but WHYYYY did he have to do that to me?!?! I actually got pissed when I read this and probably threw it across the room (or really thought about it) Sigh. If you read the book or saw the movie you know what I'm talking about. It just came out of nowhere and was so uncalled for!

2. "Red"
♪ Pick a book with a RED cover ♪
Number the Stars by Lois Lowry - probably my favorite red book!!

3. "The Best Day"
♪ Pick a book that makes you feel nostalgic ♪
Maniac Magee by Jerry Spinelli - My teacher in 5th grade read this to our class and he was the best reader giving the characters voices and all! We loved when he read to us :) I need to reread this one!

4. "Love Story"
♪ Pick a book with forbidden love ♪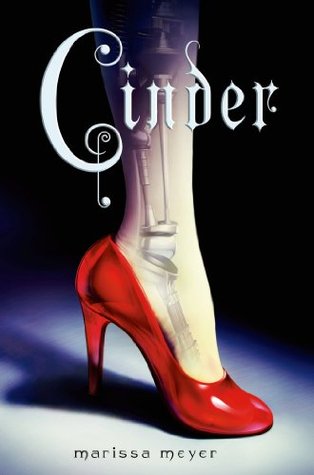 I love forbidden love :) My choice is Prince Kai and Cinder from the Lunar Chronicles by Marissa Meyer because of who both of them are, they shouldn't be together but they are perfect :)

5. "I Knew You Were Trouble"
♪ Pick a book with a bad character you couldn't help but love ♪
I thought of my favorite "bad boy" Damon Salvatore from the Vampire Diaries :)

6. "Innocent" (written b/c of Kanye West!)
♪ Pick a book that someone ruined the ending for ♪
I'm pretty good at staying away from Spoilers but the closest I can come up with is Winger by Andrew Smith. No one said what happens... but when people describe how they felt about the book, you kind of end up looking for it and expecting a certain something to happen so when it happens the impact is not as big as it could have been if you didn't know anything if that makes sense!

7. "Everything Has Changed"
♪ Pick a character from a book who goes through extensive character development ♪
Emily from Since You've Been Gone by Morgan Matson has such great character development - I'm actually proud of her :)

8. "You Belong With Me"
♪ Pick your most anticipated book release ♪
Winter is my most anticipated release - the conclusion to the Lunar Chronicles by Marissa Meyer. But one that is coming really soon is Heir of Fire by Sarah J. Maas the third in the Throne of Glass series out September 2 - so soon! YAY!

9. "Forever and Always"
♪ Pick your favorite book couple ♪
Landon & Jamie from A Walk to Remember by Nicholas Sparks <3

10. "Come Back, Be Here"
♪ Pick the book you would least like to lend out, for fear of missing it too much ♪
All of my Nicholas Sparks books, even though I want more people to read him, I refuse to lend them out!!

BONUS QUESTIONS:

11. "Teardrops On My Guitar"
♪ Pick a book that made you cry a lot ♪
Lots of books but I'll go with Suzanne's Diary for Nicholas by James Patterson because that's the first book that came to mind. It's one of my favorites that made me cry A LOT!!!

12. "Shake It Off"
♪ Pick a book that you love so much, you just shake off the haters ♪
Basically all of Nicholas Sparks books :) He is my favorite author and I know there are haters out there who don't like him - think he's cliche tired of his stories blah blah blah!! I'm not hearing any of it - I love him, always will :D He's books are like home to me whenever I read them. I will always be his biggest fan! *shaking off the haters*
♪♫♪♫♪♫♪♫♪♫♪♫♪♫♪♫♪♫♪
Do you love Taylor Swift too?? Have you been nonstop listening to her new single, "Shake it Off" Because I have been!! Have you read any of these books? And how would you answer any of these? Feel free to do this tag as well :)